A Waldorf salad is a salad traditionally made of fresh apples, celery and walnuts, tossed with mayonnaise, and usually served on a bed of lettuce as an appetizer or a light meal. The addition of chickpeas, tart cranberries, and a seasoned mayonnaise make it even more delectable. Contributed by Jennifer Strohmeyer, from Virtually Vegan Mama.
Serves: 6 to 8
2 cups Red Delicious apples, chopped
2 cups Bartlett pear, chopped
1 cup canned chickpeas, rinsed and drained
½ cup celery, chopped
½ cup chopped walnuts
½ cup red grapes, halved
⅓ cup unsweetened dried cranberries
½ cup vegan mayonnaise (or Cashew Cream )
¼ teaspoon dijon mustard
1 tablespoon dried tarragon leaves
2 tablespoon tarragon wine vinegar
Sea Salt (optional)
Freshly ground black pepper
Ground nutmeg (optional)
Combine apples, pears, celery, walnuts, cranberries and grapes in a large serving bowl, set aside.
Combine mayonnaise, tarragon wine vinegar, dijon mustard, and tarragon leaves in a medium bowl; mix well. Toss with apple mixture and season with sea salt(optional) and freshly ground black pepper to taste. Chill before serving. Sprinkle with ground nutmeg (optional) right before serving for a fall twist. Serve on top of fresh salad greens or on rolls.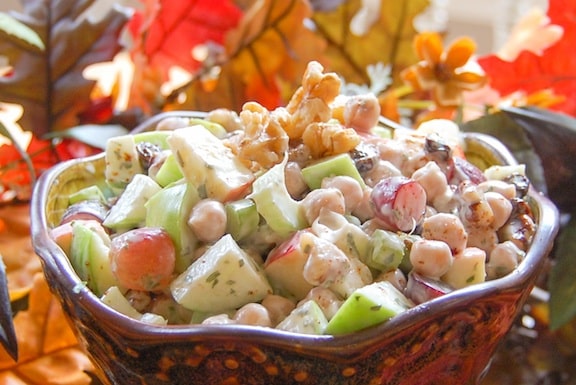 Nutrition Information :
Per Serving: 239 calories; 14.6g fat; 180.7mg sodium; 231.3mg potassium; 25.2g carbs; 4.3g fiber; 8.3g sugar; 3.2g protein