Butterscotch blondies, a childhood favorite, turned out to be one of the most difficult recipes for me to master. Really, it should have been a breeze to figure out this seemingly foolproof idea, and yet my first trial pan of raw batter literally exploded all over the oven. I wish I were exaggerating, but in all honesty, drippy streaks of sugar and margarine plastered the glass window from which I watched in horror.
Thankfully, though it took a while to perfect my approach, the following 5 or 6 attempts only resulted in a trash can full of unsatisfactory baked goods rather than more kitchen disasters. Now, I am happy to share my easy method for creating this sweet treat that I remember fondly from my pre-vegan days. It doesn't require you to blow anything up, either. Recipe and photos by Hannah Kaminsky .
Makes: 9 to 12 Bars
¼ cup vegan butter

1½ cups dark brown sugar

1½ teaspoons vanilla extract

6 ounces vanilla nondairy yogurt (soy, coconut, or almond)

⅓ cup plain nondairy creamer (ditto above)

2 cups all-purpose flour

2 teaspoons baking powder
Preheat your oven to 350ºF (175ºC) and lightly grease an 8 x 8 inch square baking pan.
Melt the vegan butter and pour it over the brown sugar in a medium bowl, stirring to coat.
Add the vanilla, yogurt, and creamer, and stir until homogeneous.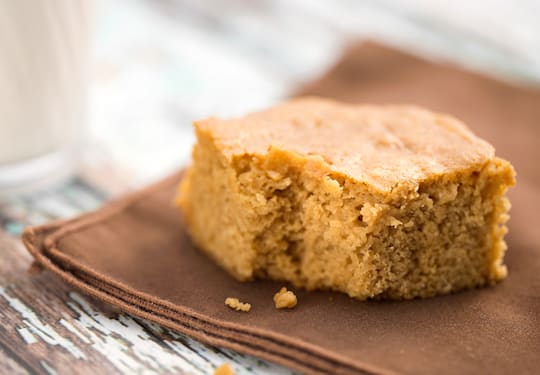 Slowly incorporate the flour along with the baking powder, stirring just enough to arrive at a smooth mixture.
Pour the batter into your prepared pan. Bake for 25 to 30 minutes, until the sides just begin to pull away from the pan and the top is fairly firm.
The blondies may still be slightly gooey on the inside, but they will continue to cook once removed from the oven. Besides, they are "fudgy" bars, so you don't want them to dry out! Wait for the blondies to cool completely before cutting.